Oil, Petrol & Grease Separators
Carlow Concrete Tanks oil / petrol & grease separators are manufactured from steel reinforced precast concrete 70N and are normally installed on a bed of cl804 stone and backfilled with the excavated material. This results in considerable savings on time and materials. Our service also includes delivery to site and off- loading into position.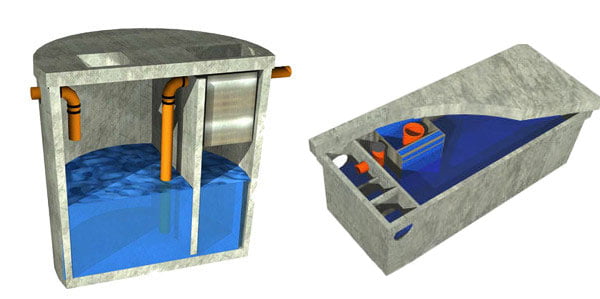 Design
In principle, we design to four basic classifications; Full Retention, Bypass, Class I and Class II. Classes I and II pertain to the Eurocode ISEN858 (Separator Systems for Light Liquids Pt. 1). All our separator range are certified to EN858 Part 1.Our designs comply with the requirements of the EPA Wastewater Treatment Manuals:- – Preliminary Treatment: Part 5: Oils, Grease and Fats
Primary Secondary and Tertiary Treatment: Part ll
EN858 Part 1
All of our products are engineered to the customer's requirements, using established design parameters. The designs are based on flow speeds, retention times, temperature and the settlement characteristics of the target materials. The tank structures are designed to BS8110, BS8007 and the Dramix Design Guidelines for Steel Fibre Reinforced Concrete Structures.
Carlow Tanks Grit Trap and Oil Interceptor
Description of basic type – Class l & ll
The European Standard EN 858-1 refers to two classes of seperator and the performance results achieved under standard test conditions.
Separator Selection
The flowchart below will provide a guide to the selection of the correct separator type for a particular drainage application. Please click here to view flowchart for the correct separator selection.
Carlow Tanks can supply and install the following range of separators:
Bypass Seperators (4.0 – 84L/sec)*
Full Retention Seperators (3.0 – 60L/sec)*
Forecourt Seperators (10,000L)
Wash Down Seperators (3.0 – 80L/sec)*
Silt Traps
Grease Traps
*Larger flow rates and/or special parameters available on request
Advantages of Carlow Tanks Seperators
Certified to EN858 Part 1
Ease of Installation
Manufactured from Concrete 70N
Suitable for Traffic Loading
Speed of Installation
Reduced Civil Costs – no expensive concrete backfill
15 Year Structural Guarantee
Flow Chart for the correct Separator selection
Carlow Tanks Grit Trap and Oil Interceptor
Oil, Petrol & Grease Separators
With the recent introduction of water charges in Ireland, many homeowners are looking for alternative ways to reduce their consumption of water in order to keep their water bill as low as possible. There are many ways in which this can be achieved, for example, it can...
Read More
"Mitchell Environmental have dealt with Carlow Tanks over the last 6 years. We supply bespoke and high performance solutions to all aspects of waste water and surface water issues. Carlow Tanks have provided us with a very high quality range of Tanks for various applications. We have also found their service and back up to be of the highest quality. Their in house staff provide excellent service and first class information on their full range of tanks at all times. We look forward to working with Carlow Tanks on various Environmental applications in the future."
- Mitchell Environmental