A septic tank is a self-contained wastewater treatment system that is located underground. Septic tanks effectively and efficiently treat and dispose of household wastewater on site. In rural areas where site sizes are larger and houses can be spaced quite widely apart, septic tanks can prove a much more economical solution than central sewer systems.
Carlow Concrete Tanks is one of the leading suppliers of domestic septic tanks in Ireland. Our 1000 gallon (4500 litres) septic tanks weights 4.5 tonnes and has a working capacity for up to 8 persons with 300mm risers available if required to bring access opening to ground level. Our Septic Tank system incorporates a 3-stage tank with three separate chambers of 330-gallon capacity and a percolation field.
Sewage enters our septic tank system through a ʻT-piece'. This helps to avoid excessive turbulence in the primary chamber and reduces the speed of the flow rate. By discharging at mid depth in the tank, the scum at the surface is not broken. Therefore the system presents the ideal conditions for the first stage of the wastewater treatment.
The percolation area is essentially a drain field constructed of permeable materials and completely covered with soil and grass. The soil of the drain field needs to be loose enough to 'percolate' for the liquids to leech from the tank and be effectively dispersed.
In order to size the percolation area, a standard test is carried out (usually under supervision of a building professional or representative from a local authority in Ireland). Normally this is carried as part of a planning application. The EPA Design Manual further details the construction of a percolation area.
Carlow Tanks 4 Piece Septic Tank
Why Buy a Septic Tank from Us?

Free Delivery Nationwide
We can deliver our 1,000 litre septic tanks anywhere in Ireland at no additional charge.
On-Site Installation & Supervision
Our expert team will fully manage the installation of your septic tank system and set-up of the percolation area.
Short Lead Times
Have an urgent requirement for a septic tank system? We can ship a solution to meet your needs in a very quick turnaround time.
Short Installation Times
Our team will ensure that the installation of your septic tank is a swift, efficient process.
Steel-Reinforced Precast Concrete 70N Construction
Our precast concrete septic tanks are reinforced with steel to ensure the construction of a strong, durable system.
No Concrete Base or Backfill Required
Our septic tanks do not need to be mounted on a concrete base nor is a backfill required to position the system.
Small Footprint in the Garden
Despite its large capacity, our septic tank has a small footprint, enabling it to fit in areas where other septic systems could not.
Complete Package Delivered
We deliver a complete septic tank system, ready for immediate use. No extra parts required.
Precast Concrete Distribution Boxes Available
We are a complete septic tank provider – we even sell precast concrete distribution boxes! These are a great way of controlling the flow of wastewater between multiple drain beds or multiple field lines.
Are you unsure of your septic tank requirements? Speak to our expert team for advice and assistance with purchasing a septic tank system.
To discuss your septic tank price or requirements, just pick up the phone and speak to one our experts. Our team are always on hand for advice and assistance on the cost of a septic tank system. Alternatively, fill out the contact form and we will be back to you as soon as possible. 
Carlow Tanks 4 Piece Septic Tank
Septic Tank Drawing Downloads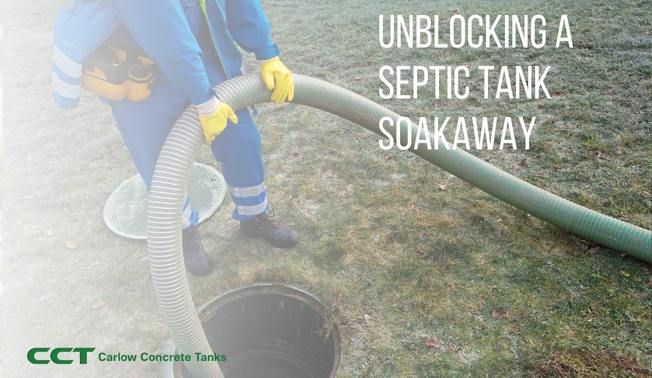 If you do find yourself in the position of needing to unblock a septic tank soakaway, take the time to check all associated pipes and tanks for any obvious blockages. If you're struggling to identify an issue, it may be worth investing in a CCTV inspection service...
Read More
"Mitchell Environmental have dealt with Carlow Tanks over the last 6 years. We supply bespoke and high performance solutions to all aspects of waste water and surface water issues. Carlow Tanks have provided us with a very high quality range of Tanks for various applications. We have also found their service and back up to be of the highest quality. Their in house staff provide excellent service and first class information on their full range of tanks at all times. We look forward to working with Carlow Tanks on various Environmental applications in the future."
- Mitchell Environmental