Biogreen Waste Water Treatment System
The Biogreen Wastewater Treatment System Scaled up to 50 pe. As is required by the certification procedure the process was tested at the lowest population equivalent. For larger systems all elements of the process are scaled up pro-rata. For example in the 8 PE system the volume of the Primary Settlement is twice that used in the 4 PE version and likewise for the volume of the Aeration Chamber and the area of the secondary clarifier. This ensures the validity of the certified process is retained for all products within the range up to a PE of 50.
Carlow Tanks Biogreen Waste Water Treatment Plant
Biogreen (Biofilm Aeration Filter System)
Install a Biogreen system and your wastewater treatment system will be compliant with all County Council Requirements. It is a fully EN certified sewage treatment system and is fully complaint with all Irish EPA and Irish Building Regulations.It was tested at PIA in Germany with an average influent of 313 mg litre BOD giving an average effluent of 19 mg / litre BOD. The sewage treatment system is supplied in concrete that gives you the costumer confidence that you are making the right investment for the future.
The air pump used in the 8pe system runs at 86 watts which costs less then a 100 watt bulb.
The structural capacity of Biogreen Wastewater Treatment Systems from 4pe to 50pe is available on request.
A detailed drawing of each system is available on request.
Maintenance:
Biogreen Environmental Solutions Ltd. will provide an operational and maintenance/service contract for each sewerage treatment system in accordance with good practice and local regulations.
Installation:
The Biogreen Wastewater Treatment System is supplied and installed, using experienced technical staff. All our systems are commissioned on receipt of payment. The system is delivered on a platform-bodied truck with rear mounted articulating crane and placed in it's final position in the excavation by the Biogreen lorry driver.
Planning Applications:
Upon receipt of a Site Characterisation Form, Carlow Tanks can draft up a detailed specification package, to meet with Local Authority Planning requirements – specific to every site. This will include the selection of the correct size of treatment unit.
We Supply Wastewater Treatment Systems to:
Single Houses
Schools
Hotels
Restaurants
Industrial Buildings
Percolation
Carlow Tanks Guarantee the level of treatment of the wastewater. Design of the Polishing and Disposal system for the treated wastewater is the responsibility of the Site Assessor/Engineer. Biogreen will however supply pumps, pipework, etc. in accordance with the specification produced by the assessor/ Engineer.

Carlow Tanks Biogreen Waste Water Treatment Plant
Tank Sizes in the Biogreen System Range
All Tanks in the Agricultural range are currently approved for farm development grant schemes by the Department of Agriculture in the Republic of Ireland and the Department of Agriculture and Rural Development (D.A.R.D.) in Northern Ireland.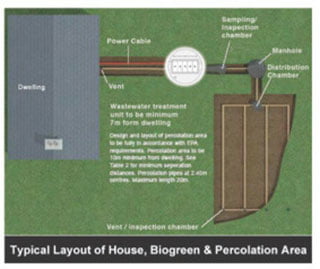 Features of the Biogreen Range:
Conforms to EN 12566-3
Conforms to Irish Building Regulations
Conforms To EPA requirements
Constructed from Steel-Reinforced
Concrete 70N
Fully Tested at Factory
Free Delivery & Installation Nationwide
Experienced Installation Crew on site
No Expensive Concrete Backfill/Base Required
Short Delivery & Installation Times
Low Electrical Operating Costs
Small Footprint in the Garden
15 Year Structural Guarantee
50 Year Design Life
Monitoring Maintenance Contract
With the recent introduction of water charges in Ireland, many homeowners are looking for alternative ways to reduce their consumption of water in order to keep their water bill as low as possible. There are many ways in which this can be achieved, for example, it can...
Read More
"CMD Sewage have dealt with Carlow Tanks over the last 3 years supplying us with a range of tanks for various applications. We are the main agent in Ireland for the Aquamax waste water treatment system and it is essential that we have a good product to house our sewage treatment system. Carlow have always provided us with what we require and are very helpful should we require modifications to their existing product range. We would recommend Carlow products to any prospective customer."
- CMD Environmental