Reception Tanks for Overground Slurry Stores
Our Reception tank's range in size from the popular 36m3(8,000 gallon) down to our 4.5m3 (1,000 gallon) tank. All of the tanks come complete with solid lids and can have the galvanised manhole cover included if required.
Information Required to Size a Tank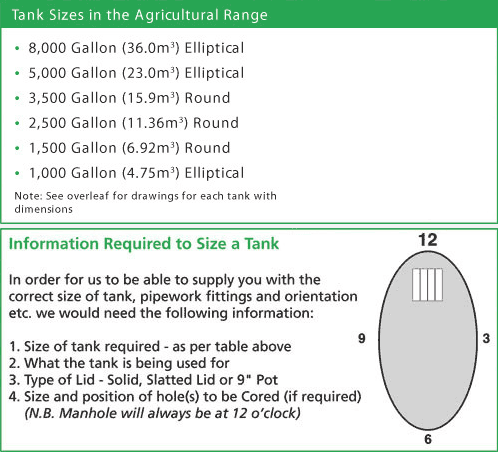 Tank Sizes in the Agricultural Range
All Tanks in the Agricultural range are currently approved for farm development grant schemes by the Department of Agriculture in the Republic of Ireland and the Department of Agriculture and Rural Development (D.A.R.D.) in Northern Ireland.
With the recent introduction of water charges in Ireland, many homeowners are looking for alternative ways to reduce their consumption of water in order to keep their water bill as low as possible. There are many ways in which this can be achieved, for example, it can...
Read More
"Mitchell Environmental have dealt with Carlow Tanks over the last 6 years. We supply bespoke and high performance solutions to all aspects of waste water and surface water issues. Carlow Tanks have provided us with a very high quality range of Tanks for various applications. We have also found their service and back up to be of the highest quality. Their in house staff provide excellent service and first class information on their full range of tanks at all times. We look forward to working with Carlow Tanks on various Environmental applications in the future."
- Mitchell Environmental